Mumbai: Recalling his meeting with Bharat Ratna Dr A P J Abdul Kalam, spiritual guide Sri M says Kalam had expressed his wholehearted support for Walk of Hope—the 7500 km padayatra from Kanyakumari to Kashmir through 11 states in 500 days.
Sri M had requested Dr Kalam to join the march at some point to endorse the objectives of the Walk. Dr Kalam had also advised Sri M to consider including the North-East in the itinerary or organize a separate padayatra to focus attention on the region's lack of progress. He expressed his commitment and love for the people of North-East in the conversation.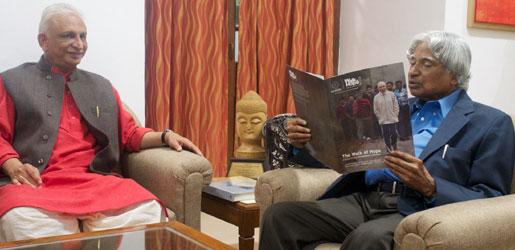 Sri M had met Dr Kalam at his Delhi residence in October 2014 to brief him about the padayatra. 'I invited Dr Kalam to join us in the march and he requested us to keep him posted on the progress. A great supporter of peace and harmony, his endorsement of Walk of Hope has inspired us manifold. Our greatest wish was to see Dr Kalam participate in Walk of Hope. It would have given a great impetus to our efforts considering his inspiring personality and towering achievements' Sri M said.
Condoling Dr Kalam's demise, Sri M said, 'The leading scientist, statesman, administrator and thinker, despite his achievements, was a humble man and, above all, a humanitarian. A great visionary, he remained a source of inspiration for the whole country, especially the younger generation. The country has suffered an irreparable loss.'