No doubt former president Dr. A P J Abdul Kalam remained an enthusiast for sharing his ideas with people till his last breath.
At a time when the whole nation laments the demise of this very unique and eminent personality and many recount the positive impact Kalam created through his direct and indirect interactions, Jyothi Menon, a published author hailing from Thiruvannur in Kozhikode, too has a word to share.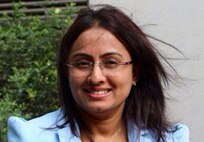 Jyothi Menon
'My first book'The Power of Human Relations'was published by Pearson in June 2004 and had the foreword written by Kiran Karnik, president of Nasscom. The book was officially launched by Subroto Mazumdar, president of Pearson and Vivek Harinarain, IT Secretary for Tamil Nadu. This book found an avid reader in A.P.J Abdul Kalam, who was then the President of India,' says Jyothi.
'Impressed by a statement in the book on 'creating a brand of an organization', Kalam sent me a note. The interaction was brief but so impactful that it provided the inspiration for my second book named Brand-Wise,' she says.
Dear Ms Jyothi Menon,

Thank you for your letter and thoughts. I liked the paragraph 'Importance of Building a brand to attract talent' of your book 'The Power of Human Relations' (page 55). My best wishes to you
, reads the letter bearing Kalam's signature.
She was in all awe of Kalam's distinctive character of sparing time to have a thorough look at her work amidst his hectic work schedule and getting back to her mentioning his favourite portion of the book and even the page number!
Jyothi, is currently the Director, Human Resources for Credit Suisse.
The letter Jyothi Menon received from APJ Abdul Kalam: