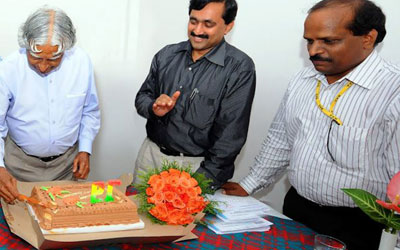 R K Prasad on extreme right
R K Prasad, Private Secretary to Dr A P J Abdul Kalam for over three decades, is probably among the aides who saw the Missile Man from very close quarters.
Prasad has been serving Dr Kalam right from his DRDO days. When Dr Kalam became the President in 2002, Prasad was appointed as Private Secretary, a key post he held for the entire term, till 2007.
Known as a no-nonsense man, Prasad was instrumental in fixing most programmes of Dr Kalam. In many ways, he was the bridge between Dr Kalam and the outer world.
With the Missile Man's packed schedules threatening to go haywire at times, with thousands of his followers thronging the venues where the former President was to make an appearance and even chasing his car, Prasad often had a tough time in ensuring that Dr Kalam was 'safe.'
Unlike some of the more 'visible' aides of Dr Kalam, Prasad always remained a silent soul. He kept his interactions with media minimal, often sticking to the official line and not giving any extra inside input.
With Dr Kalam wanting his close aides to stay clear of all controversies, Prasad always had a cautious approach while manning the Missile man's high-profile office. He remained as Dr Kalam's most-trusted lieutenants till his end, not courting any controversies.
Prasad remained in touch with Dr Kalam's innumerable friends, who spread his mission world over. Surprisingly, unlike his other aides, he kept away from the social media as well.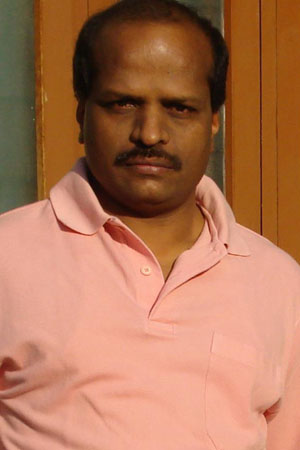 Hailing from Palakkad in Kerala, Prasad is said to have refused requests from the media for interviews soon after the news of Dr Kalam's death broke out.
Though he was initially scheduled to accompany Dr Kalam for the IIM Shillong event, he is said to have changed his plan at the last minute as he had to fix other appointments of the former President.
'Mr Prasad is truly an unsung hero in Kalam Sir's team. We had interacted with him in 2011, ahead of Kalam Sir's visit to Press Club of Bengaluru (PCB). He was very humble and agreed to make some last-minute alterations to the programme without any fuss,' recalls Sadashiv Shenoy, Secretary of PCB.
Among the key aides of Dr Kalam included Harry Sheridon, V Ponraj and Srijan Pal Singh. And, those who have interacted with Dr Kalam would agree that Prasad was probably a different spirit, who knew the Missile Man a little more than the rest of the world.
Prasad is sure to miss constantly reminding Dr Kalam in between programmes that he would miss the flight, if they delayed leaving the venue. Prasad will also miss requesting the police pilot teams to take the shortest but safest route to airports, accompanying the Missile Man to his next destination.
Even as this piece was being put together, Prasad was accompanying Dr Kalam probably for one last time â€' from No 10, Rajaji Marg Residence in Delhi to Palam Airport, off to Rameshwaram. This time, Prasad probably know that the Missile Man will not miss the flight. R.I.P. Guru Kalam!

(The writer is a senior Aerospace and Defence journalist and anchors India's leading blog Tarmak007. He has been a long associate of Dr Kalam and launched his pet project Billion Beats. He tweets @writetake.)