Social media pays homage to KalamThe social media was flooded with tributes and accolades as the former president A P J Abdul Kalam passed away when he was giving a lecture at IIM Shillong on Monday.
Various posts in Twitter, Facebook, Whattzapp expressing loss and grief kept flooding with comments, photos and memes.
In Twitter Santhosh Mishra has posted this.
On Monday evening, the social media had gone a step further and announced the passing away well before the official announcement itself. Twitter announced the death a few minutes early and many users did not wait for the official announcement to post their condolences.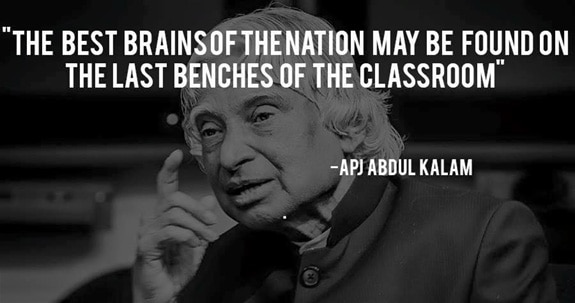 Facebook users expressed their heartfelt concern by posting the picture of Kalam as their profile picture. Hashtag 'KalamSir' has been trending on Twitter in India since last night.
Although Abdul Kalam is no more his Twitter account will continue to be active in a new form. A team of his close associates has decided to run his official Twitter account which has now been renamed as 'In memory of Dr Kalam'. 'Dedicated 2 immortal memories of Dr Kalam. this account wil nw reflect his thoughts, his lessons & missions. Miss you
sir! (sic),' Kalam's close aide Srijan Pal Singh said in a tweet.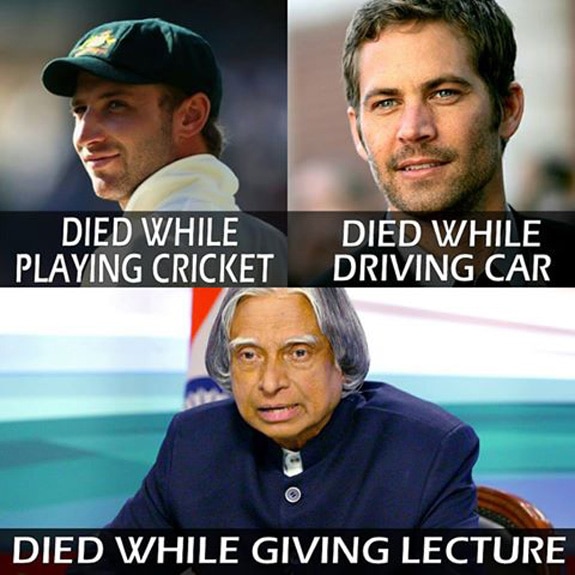 Since February 2011, Kalam had been regularly posting his views on contemporary issues facing the country besides
sending out inspirational messages on Twitter. He had more than 1.4 million followers on the microblogging site which is now flooded with his one-liners.
However, amidst all the condolences being offered by Kalam supporters, false information too is finding its way in social media. Titled `last moments', Kalam falling at a social function is being spread in the media. Though the picture was not that of the Shillong incident, many users had shared and reposted it. Even a speech of Kalam saying it to be his final speech at IIM Shillong was circulated widely.